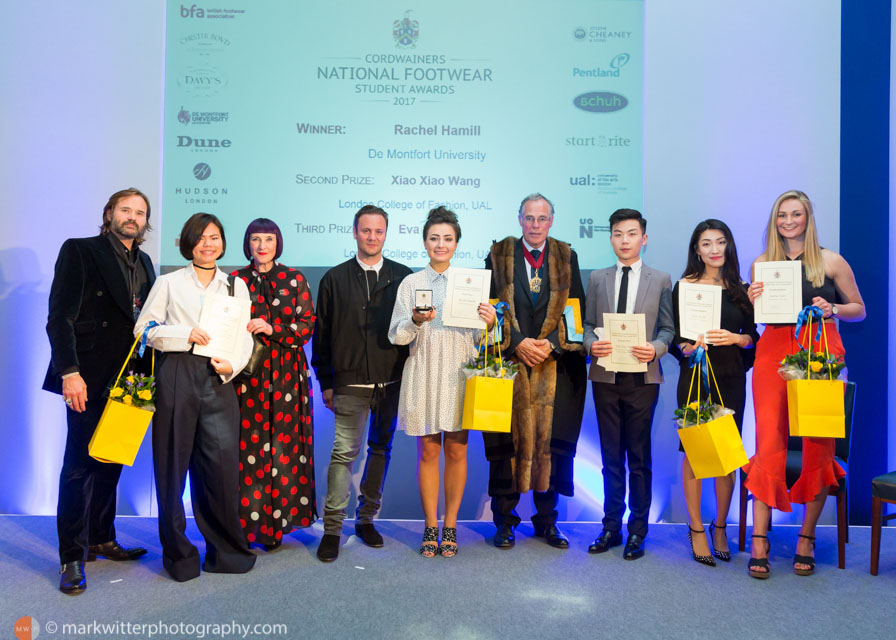 National Footwear Student Awards 2017 brings triumph for De Montford University.
More than 200 guests gathered at the Clothworkers Hall in the City of London for the Cordwainers National Footwear Student Awards 2017, the fourth time the Cordwainer's Company has hosted this prestigious event.

The National Footwear Student Awards 2017 is a showcase for the best young footwear design talent aimed at recognising and awarding the very best footwear design students.
There were 15 portfolios, five from each of the three "UK Footwear Universities" for the judges Katie Greenyer, Atalanta Weller and Guy West to consider with the difficult task of deciding upon the winning entries. This prestigious award is accompanied by a significant prize of £5,000. Past winners have used it to fund further education in footwear design or to start their own footwear design business.
The contestant from De Montfort University, Northampton University  and Cordwainers at the University of the Arts, London faced a nail-biting wait to see who would be named Cordwainer Footwear Student of the Year 2017 as the glittering evening unfolded with guests and competitors looking over the entrants' portfolios and talking to a small number of footwear showcase brands who were exhibiting their collections.
Before the announcement of the winners was made top international footwear designer and Cordwainers' College Alumnus Nicholas Kirkwood gave the keynote address, urging the students to be passionate, original and disruptive with their design ideas.
After Nicholas Kirkwood's keynote speech , the evening culminated in the announcement of the winners by Katie Greenyer, Creative Director of Pentland Brands and chairman of the judging panel.
1st Prize Rachel Hamill De Montfort University
2nd Prize Xiao Xiao Wang London College of Fashion, UAL
3rd Prize Eva Hau London College of Fashion, UAL
Commendations – Yoon-Yi Lee, De Montfort University and Joanna Eden, De Montfort University
Katie Greenyer said how much the judges enjoyed reviewing such imaginative portfolios and looking into the minds of the creative and talented student footwear designers.
Winner Rachel Hamill of De Montfort University, was ecstatic about her win.
'I am so surprised and thrilled, I can't believe I won. I would love to have my own brand one day so this is such a great start for me. I am honoured to have this recognition from the Worshipful Company of Cordwainers and to win this first prize for De Montfort University.'
Share this:


0

0

0


0