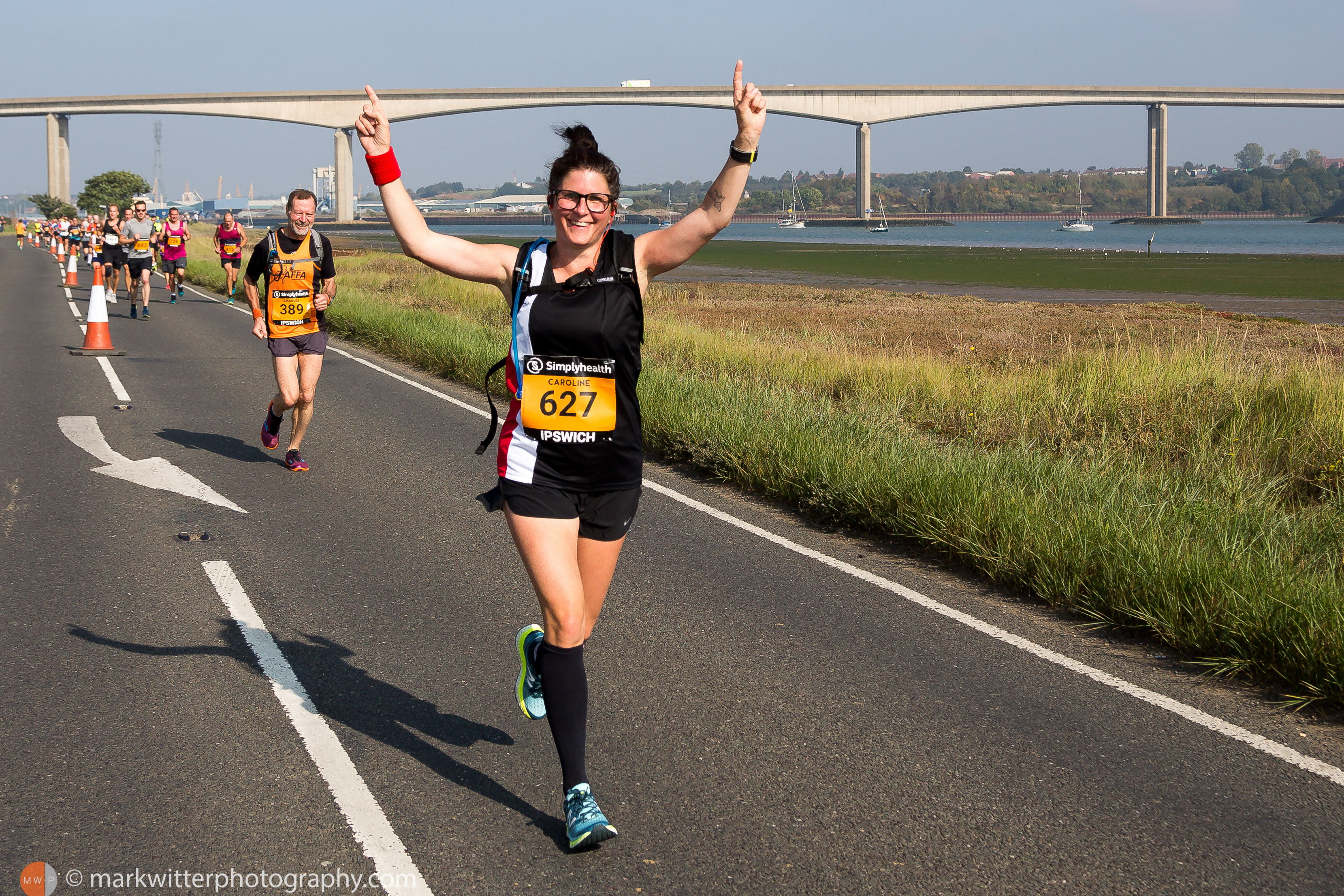 The Great East Run 2017 saw thousands of runners compete in a new half marathon event in Ipswich.
3,000 runners from all round the country flocked to Ipswich for the inaugural Simply Health half marathon, which brought together partners from Suffolk County Council, Ipswich Borough Council and Ipswich Jaffa running club.

The Great East Run 2017 is part of the UK wide Great Run series and comes to East Anglia for the first time this year.  It's perfect for people of all abilities,  whether you are new to running, looking for a challenge or aiming for a personal best time this event is for you!
I was commissioned to photograph the section of the route from the Orwell Bridge to Freston. The Great East Run 2017 route is very scenic.  Starting in the centre of Ipswich near the Suffolk County Council building in Russell Road, the course passes the famous landmark Willis building designed by Lord Foster. The route then heads out to Holywells park before coming back into Ipswich via the Marina and the Historic and dynamic Ipswich waterfront area.  The course then heads east down the Wherstead Rd, past Fox's Marina and on to Freston,  passing under the iconic Orwell bridge twice and the Suffolk Food Hall. The course then returns the runners to Ipswich town centre toward the Ipswich Town's Portman Rd stadium, where the finishing line is positioned in the stadium's practice pitch where hundred of supporters will welcome the runners.
Chelmsford runner Ryan Prout, of Thrift Green Trotters, won the race in 1:12:23, followed by Ipswich Jaffa's Rob Chenery in 1:15:04 and Steve Skinner, of Run-Fast Sports Management, in 1:16:07.
The Ipswich JAFFA  running club is a friendly running club (established in 1977) where you will find plenty of members who are very willing to help and advise. The name J.A.F.F.A.  comes from the terms "Jogging And Fitness For All"
The club meets every Monday evening at Northgate Sports Club in Ipswich, please click here to check out the JAFFA running club's website for further details.
Share this:


0

0

0


0